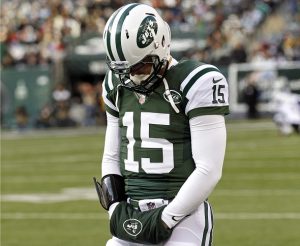 One of the NFL's most popular players, Tim Tebow, is now without an NFL home, released by the New York Jets yesterday in the wake of the weekend's drafting of West Virginia's Geno Smith. A second-round pick, Smith became the sixth quarterback on the Jets' roster meaning someone was on the way out.
Tebow appeared to have been on the way out long before this past weekend's draft as rumors of a potential trade with Jacksonville had been looming since the end of last season. A deal was never made and Jaguars' GM Dave Caldwell made it clear that the Jags had no interest in obtaining Tebow back in January.
The hype surrounding Tebow's trade to the Jets was surreal as more than 200 members of the media were on hand for his introductory press conference over a year ago. Tebow's release didn't quite match that as the Jets' organization released a short, three-paragraph press release marking the end of the Heisman winner's stay in New York.
GM Mike Tannenbaum, who put together the deal to bring Tebow to the Jets, believed, as did others, that Tebow could another dimension to the Jets' offense under offensive coordinator Tony Sparano. Sparano had some success with the "Wildcat" offense while in Miami and Tebow was viewed as the perfect Wildcat quarterback. The Wildcat package never became a staple of the Jets' offense and late in the season last year, head coach Rex Ryan benched starter Mark Sanchez and instead of Tebow, went to third-stringer Greg McElroy. It was the beginning of the end for Tebow.
Tebow had led Denver to a playoff victory over the Pittsburgh Steelers during his rookie year. His numbers in New York were nothing to salivate over: 6-for-8 passing and 32 carries for 102 yards. He never scored a touchdown in the 72 offensive snaps he was on the field and he cost the Jets a fourth-round draft pick, $1.5 million in salary, and $2.5 million that they had to pay to Denver to satisfy the trade agreement.