Jim Caldwell is Hired as Detroit Lions Next Head Coach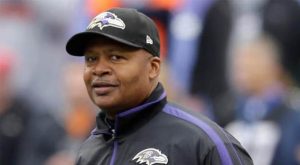 The Detroit Lions finally have a new coach as they hired Jim Caldwell, the former offensive coordinator of the Baltimore Ravens, on Tuesday. The Lions were one of three NFL teams that were still looking for a new coach. Minnesota and Cleveland are still searching.
Caldwell fit the profile of what the Detroit organization wanted in their next coach. They desired someone with head coaching experience and someone who was an offensive coach, primarily one that works with quarterbacks. Caldwell was the perfect choice.
After Tony Dungy resigned from the Indianapolis Colts in 2009, Caldwell took over as the head coach. He led the Colts, with Peyton Manning at QB, to a 14-2 record and a berth in the Super Bowl in his first season. The Colts lost that year to New Orleans. Caldwell enjoyed a 10-6 mark and another playoff spot the following year, but the wheels fell off in 2011 when a neck injury forced Manning to miss the entire season. Caldwell was let go after the 2-14 season.
Caldwell has worked on the offensive side of the ball his entire career, which began as a graduate assistant at his alma mater, Iowa. He was the quarterbacks coach at Penn State from 1986 to 1992 before his first head coaching gig, eight years at Wake Forest. He has served as the quarterbacks coach for three different teams in the NFL, including seven years in Indianapolis where he worked with Manning.
The Lions interviewed four different candidates and appeared to have Ken Whisenhunt locked up as their new coach until he took the job in Tennessee. Detroit also interviewed Tennessee's former head coach Mike Munchak and former Houston Texans coach Gary Kubiak.
Caldwell is expected to help bring along Lions QB Matthew Stafford, who is one of the league's best young talents. Stafford has thrown for at least 4,500 yards in each of the last three seasons. The Detroit offense has some serious talent with Stafford, WR Calvin Johnson, and RB Reggie Bush.
The Lions new head coach replaces Jim Schwartz, who went 29-51 in five seasons. Detroit decided to let Schwartz go after a disastrous finish last season. The Lions were 6-3 at one point, but went just 1-6 the rest of the way.
Most Recommended