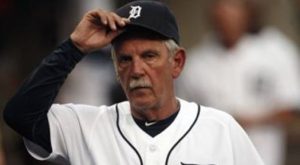 It is official. Detroit Tigers manager Jim Leyland is stepping down after eight years at the helm of one of baseball's best franchises. The Detroit skipper made the announcement Monday, just two days after the Tigers were eliminated in the American League pennant race by the Boston Red Sox. As Leyland retires, the Dodgers' Don Mattingly is undecided whether or not he will return to Los Angeles next season.
Jim Leyland's departure is no surprise to many who believed that this would be his last season no matter what the Tigers accomplished. Leyland's tenure in Detroit turned the franchise around. Prior to his arrival in the Motor City, the Tigers had not had a winning season in the previous 12 years. Only once under Leyland did Detroit finish under .500.
Leyland led the Tigers to three American League East Division titles and two AL championships. He took Detroit to the World Series in his first year, 2006, and back again in 2012. The Tigers lost on both occasions, but the franchise has become relevant once again.
For his career, Jim Leyland garnered 1,769 wins managing the Tigers along with Pittsburgh, Florida (now Miami), and Colorado. Leyland won his only World Series title as the manager of the Florida Marlins in 1997. In one of baseball's all-time classic games, the Marlins defeated the Cleveland Indians in an epic 11-inning contest to win the title.
On the other side of the country, the Dodgers' Mattingly has a $1.4 million option for the 2014 season. The former New York Yankees star has led the Dodgers to 260 wins in his three seasons with the club. Los Angeles defeated Atlanta in the National League Division series this year, but fell to St. Louis in the NL Championship Series.
Mattingly was frustrated by the fact that he managed the entire season in the final year of his contract. It felt as if the organization was unsure of his ability to manage. Mattingly, like general manager Ned Colletti and team president Stan Kasten are hoping to get this issue taken care of as soon as possible.