Jimmie Johnsons Wins In Texas; Brawl Erupts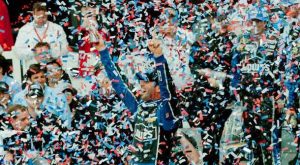 Jimmie Johnsons won the AAA Texas 500 in the NASCAR Sprint Cup Series at Texas Motor Speedway Sunday. As he began his victory celebration, more fireworks erupted as Brad Keselowski and Jeff Gordon got into a post-race altercation on pit road.
The brawl that broke out was the result of Keselowski making contact with Gordon's car just after a restart on lap 335. Gordon was ahead at the time and had the outside lane. His car drifted slightly creating an opening that Keselowski quick attempted to take advantage of but, as he tried to get through, he made contact with Gordon's car. The result was a cut tire and a 29th place finish for Gordon.
Keselowski wound up third and collected 42 points in the Sprint Cup Series. Before the 2012 Sprint Cup champion could celebrate his finish, Gordon drove over to confront him face to face. The two came to blows as a melee of crew members got involved. NASCAR officials found themselves right in the middle of the fracas.
Gordon becomes the second driver to confront Keselowski in the last four races. NASCAR will review what happened at Texas Motor Speedway on Sunday and determine if any punishment is warranted. Keselowski, who was approached by Matt Kenseth at the Bank of America 500 in Charlotte, N.C. on Oct. 11, was fined $50,000 for his behavior that day.
Regardless of the post-race festivities, Johnson grabbed the victory after leading for 191 of the race's 341 laps. Johnson has no shot at winning the Sprint Cup as he was eliminated after the second round in the series' new Chase format.
Next weekend's Quicken Loans Race for Heroes 500 from Phoenix International Raceway is the final race in the Eliminator Round. The championship round is set for Sun. Nov. 16 at Homestead-Miami Speedway. Currently, Joey Logano and Denny Hamlin sit at the top of the leaderboard with 4072 points each. Ryan Newman is third, Gordon fourth, and Kenseth rounds out the top five. Jimmie Johnsons
Most Recommended