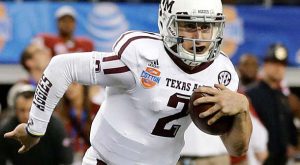 Heisman Trophy winner Johnny Manziel is currently under investigation by the NCAA for reportedly receiving compensation for signing autographs and sports memorabilia back in January.
The Texas A&M quarterback had traveled to Fort Lauderdale, Fla., on January 6 to attend the national championship game between Notre Dame and Alabama the next day when he was approached by autograph broker Drew Tieman.
It has been reported that Johnny Manziel agreed to sign numerous photographs, mini football helmets, and other memorabilia items in exchange for a fee. That fee is believed to be in the five-figure range.
There are at least two witnesses who say they Manziel sign photographs and other items. These sources did not witness any exchange of money, though.
The NCAA has been looking into the incident since at least June when James Garland, the NCAA assistant director of enforcement,contacted Tieman and at least one other person associated with the autograph session.
If found to have violated an NCAA rule, Manziel could faced losing his eligibility. The NCAA bylaw 12.5.2.1 states that student-athletes cannot accept money for promotion or advertisement in commercial products sales or services. Doing so can, of course, lead to an athlete becoming ineligible.
Johnny Manziel has been newsworthy since becoming the first freshman to win the Heisman Trophy last December. Most recently, he was thrown out of a frat party on the campus of the University of Texas, a fierce rival of Manziel's Aggies. He was asked to leave the Manning brothers' passing academy this summer for showing up late to practice, and he even tweeted about how he couldn't wait to leave Texas A&M.
Johnny Manziel has stated previously that he has never accepted any payments or other benefits in exchange for an autograph. The NCAA will continue its investigation. Meanwhile, Manziel and his teammates will report to their preseason training camp which begins this week.