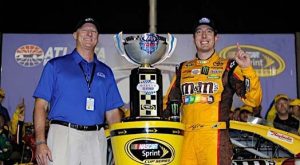 A year after failing to make the 12-car field, Kyle Busch is on his way to the Chase for the NASCAR Sprint Cup championship after a victory Sunday night in the AdvoCare 500 at Atlanta Motor Speedway.
The 28-year-old driver, arguably one of the most talented in all of racing, held off Joey Logano for the victory, his fourth Sprint Cup win of the season. The win gives him some serious momentum heading into Richmond next weekend and then into the playoffs.
Martin Truex Jr. was third, followed by Kurt Busch, and Ryan Newman. Three more drivers in Sunday's race secured their spots in the Chase. Kevin Harvick, who finished ninth, joined Carl Edwards and Kasey Kahne in claiming spots in NASCAR's Sprint Cup playoffs. There are five more spots to be filled for the Chase. Those will be determined by the race next weekend in Richmond.
The win was Busch's 16th of this racing season in the top three series. He has nine victories in Nationwide and three more wins in trucks. Busch now has 121 career victories, 28 of which are in the Sprint Cup series.
What Busch would really like, though, is a Sprint Cup championship. "The championship is number one on anybody's list," Busch said. "You want to be the best in your realm of racing. I'm a NASCAR driver. I want to win a championship. I've yet to collect the big prize. One of these days it will happen. Maybe it'll be 2013. Hopefully, it is."
The defending Sprint Cup champion, Brad Keselowski, was unable to finish the race and wound up a disappointing 35th. He is winless this year and is on the bubble to make the Chase. Currently, he sits in 15th place, 28 points behind 10th-place Kurt Busch. He will likely need a victory next week in Richmond to qualify.
The Federated Auto Parts 400 will start next Saturday at the Richmond International Speedway. The top ten highest point finishers in the NASCAR Sprint Cup Series will then square off in the Chase for the Cup beginning Sunday, September 15, at the GEICO 400 at Chicagoland Speedway in Joliet, Ill.