LA Clippers Win First-Ever Division Title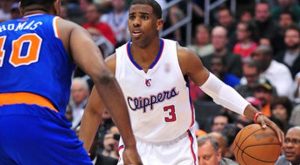 With a 109-95 victory over city-rival, the Los Angeles Lakers, the city's Clippers clinched the first-ever division championship in the franchise's history. The LA Clippers, led by Chris Paul's 24 points and 12 assists, beat the Lakers for the fourth time this season, sweeping the season series for the first time in history as well.
In the 1974-75 season the franchise was located in Buffalo and known as the Braves. It was the only other time in franchise history where the team swept the Lakers. With the win, the Clippers are now 51-26 and sit atop the Pacific Division.
With the division clinched, the Clippers are guaranteed a top-four seed in the upcoming NBA playoffs. If head coach Vinny Del Negro's squad can finish the season with a better record than the current fifth-place team, Memphis, the Clippers will be guaranteed home-court advantage as well.
The Clippers have come close and have qualified for the playoffs in the past. In the organization's first season out west, in San Diego, the Clippers posted a record of 43-39 under head coach Gene Shue. The Clippers would finish just two wins shy of reaching the playoffs and the 1978-79 season would be the last winning season for 13 years.
The Clippers, now in Los Angeles, hired head coach Larry Brown halfway into the 91-92 season and Brown promptly imprved the teams record to 45-37 and a berth in the NBA playoffs. The Clippers would finish with a better record than their crosstown rival the Los Angeles Lakers this would be a first since they made the move. Unfortunately their trip to the playoffs would be short lived as they were knocked out of the playoffs in round one by the Utah Jazz. The Clippers returned to the playoffs the following season their record would be 41-41,  but were knocked out in round one again this time by the Houston Rockets.
Much of the Clippers' recent success is due to the emergence of superstar Blake Griffin, drafted in 2009. Griffin averages 18.4 points and 8.5 rebounds per game and is arguably one of the league's best players. The team then acquired Caron Butler, veteran guard Chauncey Billups, and this year's NBA All-Star game MVP, Chris Paul. Paul's emergence as one of the league's best point guards – he averages 17 points and almost 10 assists per game – has been a boost to the quality of play in Los Angeles.
Most Recommended