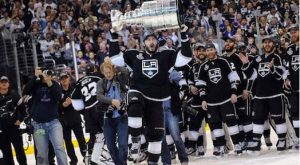 For the third straight season, the first two games of the Stanley Cup Finals have been decided in overtime. This season, the LA Kings rallied for the second straight game and went ahead 2-0 in the series when captain Dustin Brown tipped in Willie Mitchell's shot from the point midway through the second overtime.
The New York Rangers, as they did in Game 1, took control of the game early building a 2-0 lead in the first period on goals by Mats Zuccarello and Ryan McDonagh. The Kings would find the net early in the second period when Jarret Stoll beat Henrik Lundqvist at the 1:46 mark to cut the lead to 2-1.
The two teams traded goals later in the period with Mitchell's power play goal at 14:39 cutting the Rangers lead to 3-2. Just 11 seconds later, though, Derick Brassard would again give New York a two-goal lead assisted by Mats Zuccarello.
Then, the entire complexion of Game 2 began to change early in the third period. Less than two minutes into the period, the Kings Matt Greene fired a slap shot that hit Dwight King who fell into Lundqvist in front of the Rangers' goal. The puck found its way into the net, but Lundqvist and the Rangers could not believe that an interference penalty was not called.
The Rangers fell apart after King's goal allowing an unassisted goal by Marian Gaborik to tie the game at the 7:36 mark of the final period. Still, the Rangers hung on until Brown's decisive goal in the second overtime.
Lundqvist made 39 saves for the Rangers, while his counterpart Jonathan Quick stopped 34 shots for the Kings. It was the second straight game that the Rangers blew a two-goal lead. It could be a good omen for the Kings, who won both Games 1 and 2 of the 2012 Stanley Cup Finals. The Kings won that series 4-2 to claim the Cup. Game 3 is Monday night in New York's Madison Square Garden.