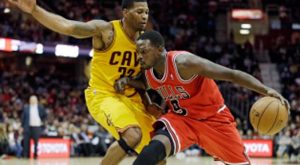 The youngest player ever drafted in NBA history, Andrew Bynum will become a Cleveland Cavalier, the latest move as NBA free agency heats up. Bynum will sign a two-year deal, loaded with incentives, that is worth up to $24 million.
In 2005 at age 17, Bynum, fresh out of St. Joseph High School in New Jersey, Andrew Bynum was selected No. 10 overall by the Los Angeles Lakers. Later that year, he became the youngest player to ever play in an NBA when he took the floor for six minutes in the Lakers' season opener.
Bynum would go on to help Los Angeles win two NBA championships in 2009 and 2010. He enjoyed his best season during the 2011-12 campaign when he averaged 18.7 points and 11.8 rebounds per game. Bynum was a second-team All-NBA selection and also was picked to play in his first All-Star game that year.
As of late, Andrew Bynum has been fighting the injury bug. He was traded to Philadelphia after the 2011-12 season in the deal that sent Dwight Howard, now with Houston, to the Lakers. The 7-foot center has had problems with his knees and prior to last season was experiencing discomfort in both knees. As his condition worsened, Bynum was held out of all pre-season activities and then wound up missing the entire season.
The Cavaliers are banking on Andrew Bynum producing a huge comeback this season. The move gives Bynum the chance to work once again with coach Mike Brown, who coached the 2012 all-star when he was in L.A. If, for some reason, Bynum does not work out, his two-year contract has only $6 million that is guaranteed. Cavaliers owner Dan Gilbert believes the big center is worth the risk.
With a healthy Bynum, the Cavs could have a lineup that features him along with 6-11 Anderson Varejao, No. 1 draft pick Anthony Bennett, and the young and flashy 6-3 point guard, Kyrie Irving. The addition of Bynum could propel Cleveland back into the playoff picture in the Eastern Conference.