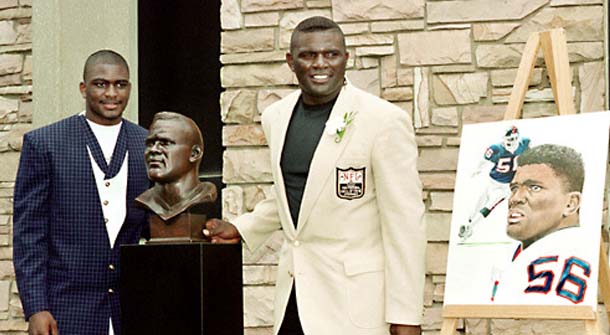 The son of Lawrence Taylor, the NFL Hall of Famer, was arrested on charges of statutory rape for sexual assaults on 2 juvenile females according to authorities. Lawrence Julius Taylor Jr. was arrested on charges of aggravated child molestation, felony rape, and aggravated sodomy.
Taylor Jr., who is being held at the Cobb County Adult Detention Center in Georgia, was picked up based on interviews with the two females. One of the juvenile females stated that the sexual assault took place at Taylor Jr.'s residence in Power Springs on July 6. The other female stated the sexual contact was consensual and it took place in early 2012.
The elder Taylor, who was an All-Pro linebacker with the New York Giants, had his problems with the law as recently as 2011. Taylor, 54, pled guilty to sexual misconduct and soliciting a 16-year-old prostitute. The misdemeanor charge carried no jail time, but Taylor was required to register as a sex offender as well as serve six years of probation.
When Taylor Sr. was inducted into the Pro Football Hall of Fame in 1999, it was the younger Taylor who gave the presentation speech. Where he gave an emotional endorsement saying that if he had a choice of who he could have as his father he would chose Taylor Sr. every time.
His father played on the New York Giants roster in the years 81 -93, made 10 trips to the Pro Bowl and was a part of 2 Super Bowls with the Giants. His style of play as an outside linebacker changed the nature of the game mainly due to his ability to rush the passer.
The younger Taylor, 31, faces some serious penalties if convicted on any of the charges. According to the Cobb County District Attorney's office, the aggravated sodomy charge carries a maximum penalty of 25 years to life as does the aggravated child molestation. The statutory rape charge could send Taylor Jr. to jail for 10 to 20 years.