LeBron James Is Back In Town What's the Difference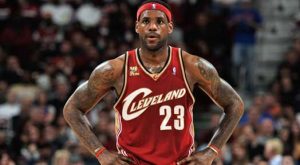 The Cleveland Cavaliers got lebron James back this offseason after his stint in Miami that produced three NBA titles. The Cavs had hoped for some of the same magic in Cleveland. It hasn't come yet.
The Cavs are now 5-7 after blowing an early lead to Toronto on Saturday and losing 110-93. Cleveland has now lost four straight thanks to an inability to control the basketball. The Cavs turned the ball over 20 times on Saturday, which the Raptors turned into 22 points.
Raptors guard Louis Williams came off the bench to score a game-high 36 points, including 15-of-15 from the free throw line. Point guard Kyle Lowry hit 11-of-12 from the line and wound up with 23 points.
Cleveland's turnover problem has plagued them thus far this season. In the past four losses, the Cavs have committed 72 turnovers that have resulted in 94 points for their opponents. It is hard for Cleveland to make up those points especially when lebron James has an off night. The Cavs star had just 15 points, but he did dish out 10 assists. He also committed a team-high five turnovers.
Head coach David Blatt is going to have to figure out how to get his Cavs to play sound basketball past the first quarter. So far this season, Cleveland is shooting a blistering 64 percent from the field in the first quarter. Against Toronto, the Cavs jumped out to a 34-21 lead but were then blown out by the Raptors in the second and third quarters by a score of 64-37. It was a deficit that James and company just could not make up.
Cavs owner Dan Gilbert and the rest of the organization went to great lengths to bring James and fellow perennial All-Star Kevin Love to Cleveland this past offseason. Love scored a season-high 23 points and had seven rebounds against Toronto but, like James, hasn't produced like he is capable.
Blatt is going to have to hope that James, Love, and the rest of the Cavs lineup figures things out and soon. They will face Orlando, Washington (second place in the Eastern Conference), and Indiana next week.
Most Recommended