Lebron James Wins NBA Fourth MVP Trophy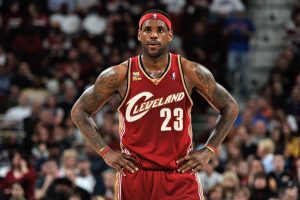 For the fourth time in the past five seasons, the Miami Heat's LeBron James is the winner of the Maurice Podoloff trophy as the NBA's Most Valuable Player. James fell one vote shy of a unanimous selection receiving 120 of a possible 121 first-place votes.
James had a tremendous season in leading the Heat in defense of their second NBA championship. He averaged 26.8 points, 8.0 rebounds (a career high), and 7.3 assists per game. The four-time MVP also shot a blistering 56.5 percent from the field, including 40.6 percent from 3-point range.
King James joins an elite crowd that includes Michael Jordan, Bill Russell, Kareem Abdul-Jabbar, and Wilt Chamberlain as the only players in the history of the NBA to claim at least four MVP trophies. This year's award marks the third such honor for James in the last 12 months. After winning last year's league MVP, James was the MVP of the NBA Finals as he led his Heat to their first NBA title since 2006.
The lone first-place vote not garnered by James went to the New York Knicks Carmelo Anthony, who finished second in the NBA scoring race averaging 28.7 points per game. Gary Washburn of the Boston Globe voted for Anthony stating that the Knicks would not have made the playoffs without the play of Anthony whereas the Heat have plenty of other weapons besides James.
Anthony applauded James saying, "LeBron gets it, I take my hat off to him, he deserves it. They had a helluva year, to win 27 straight games, a hell of an achievement."
Oklahoma City Thunder forward Kevin Durant was second in the MVP voting for the second year in a row. Anthony finished third, Chris Paul was fourth, and Kobe Bryant wound up fifth.
James will now concentrate on the quest for the Heat's second consecutive NBA title. Miami begins its second-round series with the Chicago Bulls Monday night. It will be the Heat's first game since completing a four-game sweep of the Milwaukee Bucks on April 28.
Most Recommended