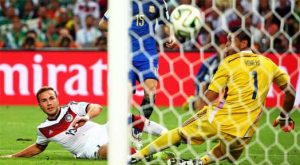 After 113 minutes of a scoreless World Cup final, Mario Gotze, who replaced Miroslav Klose in the second half, scored after a beautiful pass from Andre Schurrle beating Argentina goalie Sergio Romero for the decisive goal to give Germany a 1-0 win and the 2014 World Cup Championship.
It was the fourth overall World Cup title for the Germans and their first since 1990. Ironically, in winning that last title 24 years ago the Germans defeated Argentina. It appeared Germany would be at a disadvantage after learning that Sami Khedira came up lame with a strained calf.
It was not meant to be for the Argentinians as Gonzalo Higuain missed the first real scoring opportunity. A lazy header by Germany's Toni Kroos gave Higuain a clear path to the German goal, but Higuain's shot went wide.
Higuain appeared to have made up for his mistake when he broke free and took a cross from Ezequiel Lavezzi and promptly put it past German goalie Manuel Neuer. Unfortunately, for Higuain and Argentina, he was clearly offside.
The second half was more of the same as the two teams had scoring chances, but could not take advantage. Argentina's star Lionel Messi, named the tournament's most outstanding player, missed a golden opportunity less than two minutes into the second half. Messi weaved his way through the German defense but missed wide on an open shot attempt.
Gotze entered the match in the 88th minute replacing Klose, whose World Cup career will come to an end. Neither team took many chances as regular time ended. Finally, Gotze took Schurrle's pass, controlled it with his chest, and then powered the ball past Neuer.
Messi had an attempt on a free kick with less than 30 seconds remaining in extra time. From 25 yards away, Messi's shot went well over the goal and the match ended soon after.
Germany has finished in the top three in the past four World Cups. Their victory is the first time a European country has won the World Cup when played in the Americas. Argentina has not won a World Cup since 1986 when, led by former great Diego Maradona, it beat West Germany 3-2.