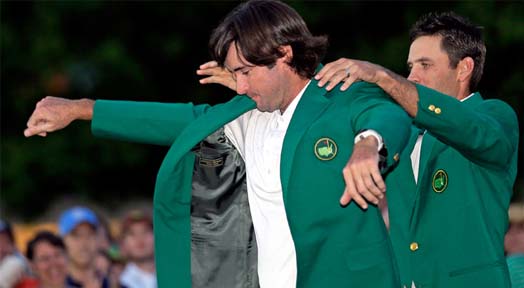 What an exciting Masters tournament last month. Bubba Watson winning the Green Jacket was great for golf. The shot he hit in the playoff was quite incredible. His emotional reaction to winning his first major was genuine and from the heart and really shows you how human athletes are. Watson and his wife (a huge anchor in his life) had just adopted a child and so she and the baby weren't able to join Watson in Augusta.
There has been a lot of talk about Bubba Watson and never taking a golf lesson. With the emphasis on teaching the mechanics of the swing and all of the research done from a biomechanics standpoint it is really quite amazing a player can play at the level he does without taking advantage of all that is available. Is it really an advantage? The longer I live and the more golf I play and observe the more I realize that anything that we approach in such a mechanistic fashion invariable deprives us of a great gift we possess. We are creators, artists and players. The more we focus the mind on every moving part of the golf swing the more we rely on thinking about it when playing the game. With so many things outside our control on the golf course, we have to accept the fact that the game has a mystical component. The greatest players will tell you that when they are in the zone and playing their best golf, their mind is pretty quiet and free of much thought. At least much thought on the mechanics of their swing. They mention that their swing feels effortless and that their tempo feels so smooth. They could do anything with the golf ball. They look at the target see the shape they want to hit and execute exactly what they pictured. They create the golf shot in their mind and then produce that shot; a truly spiritual moment when what you visualize manifests itself physically.
Bubba Watson is an artist. He shapes his shots, he hits them high, low, curves them to the left or to the right. He isn't concerned with what his swing looks like; he is only concerned with the shots he produces. Matt Every had a chance to win in San Antonio a few weeks ago. After his course record 63 he said he had fired his swing coach a few weeks ago and he doesn't care that his feet come off the ground on impact. I coached Matt at the University of Florida. Matt was a gamer and guy that wanted to get on the course and play. He would be on the range before a round and if he wasn't hitting it perfect but it was going relatively where he was aiming he would say, "that'll work on the course!" He wasn't concerned with perfection. He knew the game is much more than hitting perfect golf shots. It is about managing yourself and getting the ball in the hole. At the Regionals one year he had played crummy in the 1st round after seeing a teacher who was tweaking his grip. He looked at me after the round and said, "I'm done with the grip change; I am going back to my old grip tomorrow." He proceeded to shoot a 63 the next day.
When you get to a certain level in the game of golf and you have learned the game from a young age you have to let yourself just play the game. Work on your fundamentals especially your alignment and setup. You then have to trust what you have and take a page out of Every and Bubba's play book. If you commit yourself to being the best player mentally, a great putter and wedge player, you will be the best golfer you could be. If your desire is to play the PGA TOUR and you do those three things and you aren't at the proper level, then you might want to seek out a new instructor to help you improve your swing mechanics to be more consistent or to hit the ball better. More times than not though, if you get to a certain level and have proven you can win, you are best suited to work your tail off on your mental game, your wedge game and putting.
For those reading this post that aren't accomplished golfers, I recommend finding a teacher that will teach you the fundamentals. When you head out to practice those fundamentals make sure to spend plenty of time focusing on where you want the ball to go while you are swinging so you let your athletic ability help you. Next time you are on the range, I encourage you to spend half of your session working on a few drills that help your mechanics. The last half of your practice, I challenge you to mimic your play on the course. Walk into every shot looking up at your target and use the same routine every time. Focus on the type of shot you would like to hit and swing with great tempo. The more you tailor your practice sessions this way the more you will learn to play golf and not golf swing. Play the game and enjoy the walk!