Miami Heat Big Three Shows Up To Knot Series At 2-2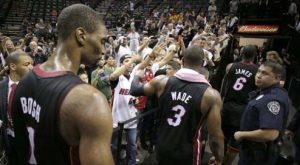 When the media proclaimed the Big Three – LeBron James, Dwayne Wade, and Chris Bosh – was over, they forgot one thing. Nobody told the three Miami Heat stars.
The Big Three woke up in Game 4 of the NBA finals when James erupted for 33 points, Wade scored 32, and Bosh added 20 in a 109-93 Miami win over San Antonio. James had struggled to get of 20 points in the games 1-3 while Wade's 32 was 11 points over his highest scoring game in the playoffs. Bosh's 20 would match his highest scoring playoff game this season and he also recorded 13 rebounds to finish off his double-double.
The 85 points by the Big Three was the difference in what was otherwise a tight game until Miami pulled away in the second half. Spurs' guard Tony Parker scored all of his 15 points in the first half as the teams went to the locker room knotted at 49-49. Parker, who has been battling a leg injury, missed all four of his second half shots and did not score again. He did finish with nine assists.
After hitting an NBA finals record 16 3-pointers in Tuesday's win in Game 3, San Antonio managed just 16 3-point attempts in Game 4. The Spurs also committed 19 turnovers, something they normally don't do. With the Big Three on fire, San Antonio had to be perfect and they were far from it.
Tim Duncan led San Antonio with 20 points, but the veteran grabbed just five rebounds. Reserve point guard Gary Neal added 13 points, shooting 3-for-4 from 3-point range.
James shot 15-for-25 and also had 11 rebounds. Wade was 14-for-25 and he also had six rebounds and six steals. With his performance, Wade becomes the just the second player in NBA history – Isaiah Thomas was the other – to score at least 30 points and have six steals in an NBA finals game.
The Heat are now 6-0 following losses this postseason. Dating back to January, they are 12-0 following losses this season last losing consecutive games on January 8 and January 10. There have been four teams in NBA history that have gone 6-0 following losses in the postseason. Each of those four won an NBA championship.
Most Recommended