Miami Heat Win Streak Ends at 27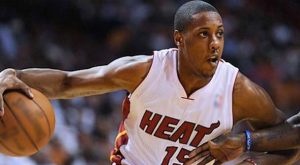 Luol Deng scored 28 points and Carlos Boozer added 21 points and 17 rebounds to lead Chicago to a 101-97 victory over the Miami Heat thus ending the NBA's second-longest winning streak in history.
The Heat, who had not lost since February 1st (to Indiana), trailed early as the Bulls jumped out to a ten-point first-quarter lead. Throughout the streak, LeBron James and company have been able to overcome several deficits, including coming back from 27 down in Cleveland, but not this time.
James would do what he could, he finished with a game-high 32 points, but his supporting cast just did not produce enough. Chris Bosh did have 21 points and Dwayne Wade added 18 but after the Big Three, production was limited.
The Bulls pulled off the stunner minus superstar Derrick Rose, who has not played yet this season and is still recovering from his devastating knee injury at the end of last season. Chicago was also without Joakim Noah, Marco Belinelli, and Richard Hamilton. With the undermanned lineup, the Bulls looked to Kirk Hinrich and Taj Gibson to defend James and the penetrating Heat. It worked as the Bulls forced Miami to shoot just 25.6 percent from outside the paint. Chicago also got 17 points from Jimmy Butler.
Miami had been chasing the 33-game winning streak of the 1971-72 Los Angeles Lakers, the NBA's longest. Heat president Pat Riley was a member of that Lakers' squad but he remained virtually silent throughout mostly because he rarely does interviews anymore, but also because the team's official stance on the streak was that it just didn't matter. The Heat's primary concern is winning another NBA championship.
The streak's end now allows the Heat to focus on some of its shortcomings and allows some of their stars some much needed rest before the playoff run. The winning streak goes down as the second-longest in the NBA and also the second-longest in all of professional sports. It's something the Heat can be proud of but something that they can now put behind them and concentrate on their main objective – another NBA title.
Most Recommended