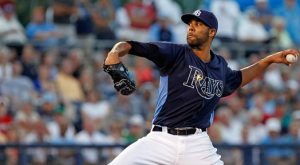 Pitcher David Price threw a complete game and third baseman Evan Longoria went 3-for-4 with a home run and two RBIs as the Tampa Bay Rays defeated the Texas Rangers, 5-2, to capture the final American League wild card spot and set up the MLB playoffs field.
For the second time in three seasons, Tampa Bay needed a victory in its final game to get into the playoffs. This season, they needed an extra game to do so.
Price, last year's American League Cy Young Award winner, has had his troubles pitching in Texas. In his four prior starts at Rangers Ballpark, Price's ERA was over 10.00, but this time he was masterful. He threw 118 pitches, struck out four and walked just one batter. He also picked two runners off base.
Longoria, who has much past success in the final games of a season, hit a two-run homer in the third inning to give the Rays a commanding 3-0 lead. The home run was Longoria's 39th of the season. He added a single and a double and he also scored twice.
Tampa Bay will now face Cleveland, the other wild card selection, in a one-game wild-card playoff on Tuesday, October 1, in Cleveland. The winner will move on to the best-of-five series with Boston. The other American League playoff series pits the AL Central champion Detroit Tigers against the Oakland As.
In the National League, Cincinnati will visit Pittsburgh for a one-game wild-card playoff on Tuesday. It's the first time that the Pirates have made the postseason since 1992. The winner gets to play NL Central Division champ, St. Louis. The other NL playoff series features Los Angeles against Atlanta.
All of the division series are best-of-five. The league championship series' as well as the World Series are played as best-of-seven.