Clayton Kershaw Completes Rare Sweep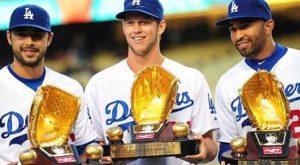 The final postseason awards for the 2014 Major League Baseball season were handed out this week and the Los Angeles Dodgers' Clayton Kershaw completed a sweep of the National League Cy Young and the NL's Most Valuable Player Awards. It was Kershaw's third Cy Young Award in the past four seasons.
Kershaw also becomes the first pitcher to win both awards since 1968 when Hall of Famer and St. Louis great Bob Gibson achieved the feat. The Dodgers' ace was an easy choice for both awards after a 21-3 season helped lead Los Angeles to an NL West Division title. In baseball history, only three NL pitchers have won 21 games or more, had 65 or fewer walks, and an ERA of 1.90 or lower. All three have been named MVP (Gibson and Sandy Koufax were the others).
Kershaw's competition for the MVP award came from Marlins slugger Giancarlo Stanton and Pirates outfielder Andrew McCutchen. Stanton hit 37 home runs and drove in 105 runs while batting .288. McCuthen, the runner-up last year, enjoyed another great year hitting .314 with 25 home runs and 83 RBIs in leading the Pirates to another playoff berth.
In the American League, Los Angeles Angels outfielder Mike Trout became the youngest unanimous winner of the MVP award in MLB history. At 23, Trout adds the award to his AL Rookie of the Year that he won in 2012. One of the true young stars in the league, Trout wins his first MVP after finishing second the previous two seasons.
Trout just keeps getting better. He has led the AL in runs scored in each of his first three seasons. He led the league in RBIs with 111, hit 36 home runs, and led the Majors with 84 extra-base hits and 338 total bases. Trout becomes the fifth-youngest player to win the MVP award.
The race for the AL Cy Young was not as clear as the NL where Kershaw was the undoubted favorite. In the end, it was Cleveland Indians right-hander Corey Kluber who was the winner. Kluber finished 18-9 with a 2.44 ERA and struck out 269. He was absolutely brilliant after the All-Star break with 127 strikeouts and 1.73 ERA. Kluber beat out Seattle right-hander Felix Hernandez (15-6, 248 strikeouts) to win the award. Kluber received 17 first-place votes with Hernandez receiving the remaining 13 out of 30.
Most Recommended