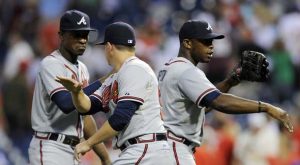 The Washington Nationals wisely postponed Monday night's game with division-leading MLB Braves following the horrific shootings at the Navy Yard in Washington, D.C. Residents of the country's capital awoke to a developing story as what appeared to be a lone gunman went on a shooting rampage at the nearby Navy Yard.
Navy veteran Aaron Alexis, discharged from the Navy two years ago after serving in Texas and Illinois, was determined to be the lone shooter. Alexis apparently entered the facility and began spraying bullets on the fourth floor and continued to do so down to the cafeteria area of the Naval Systems Command Center located in southeast Washington, D.C.
Twelve people were reported killed and eight others were injured, three by gunshot. Alexis was killed by gunfire. Police were engaged in a shootout with Alexis, but it is not clear whether he was killed by police or if he killed himself.
Commissioner Bud Selig issued a statement as a result of the shootings. "Major League Baseball mourns those who have been lost to this senseless tragedy," Selig said. "Major League Baseball's security department will continue to track this matter in consultation with the Nationals and under the guidance of the local authorities."
The Nationals' postponement was announced just after 3 p.m., four hours before game time. Nationals Park, located just blocks from the Navy Yard, was used by authorities as the events continued throughout the morning and early afternoon. One of the parking lots at the stadium was set up for families of Navy Yard employees to meet following the complete evacuation of the facility.
The game has been rescheduled for Tuesday, when the teams will play a doubleheader. The game is the first of a three game series and features Dan Haren starting for Washington and Mike Minor for the Braves.
Currently, the Braves have a 10-game lead over second-place Washington in the National League East Division. The Nationals are 4½ games behind Cincinnati for the final National League wild-card slot in the NL.