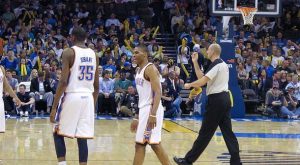 Roy Hibbert's double-double led Indiana past New York and Memphis center Marc Gasol scored 16 second-half points to lead the Grizzlies to an 87-81 win over Oklahoma City as both the Pacers and Memphis grabbed 2-1 leads in their series in the NBA playoffs.
Hibbert scored 24 points and had 12 rebounds and the Pacers' defense smothered New York for an 82-71 win in the Eastern Conference semifinals. Teammate Paul George, while struggling to score, still added 14 points while grabbing eight rebounds and dishing out eight assists.
George provided stellar defense on Carmelo Anthony limiting the Knicks' star to just 4-for-11 shooting and 10 points while guarding him. The Indiana defense held the Knicks to just 35.2 percent shooting on the night, allowing just three 3-pointers, and forcing 15 turnovers.
Anthony would finish with 21 points to lead the Knicks. He was the only New York player in double figures. Center Tyson Chandler and reserve guard J.R. Smith each scored nine points.
In the Western Conference, the Memphis Grizzlies have surprised many including their opponent, the Thunder, taking a 2-1 lead in their semifinals series. The Memphis defense forced poor shooting by the Thunder, who made just 36.4 percent of their shots.
Thunder star Kevin Durant scored 25 points, but only two in the fourth quarter. He also had 11 rebounds and five assists, but Durant missed two key free throws with just 39 seconds remaining in the game.
Gasol finished with 20 points, nine rebounds, and four assists, but it was his defensive presence that was the difference. With Gasol on the floor, Oklahoma City shot just 31 percent compared to the 48 percent with him on the bench.
The Grizzlies find themselves in a familiar position. Two years ago in the 2011 Western semifinals, Memphis led the Thunder 2-1 only to lose the series in seven games after splitting games 3 and 4 in Memphis. Game 4 is Monday night in Memphis once again and head coach Lionel Hollins is well aware that a win will go a long way in determining the outcome of the series. One thing in his favor - the Grizzlies are 18-1 at home since Feb. 8.