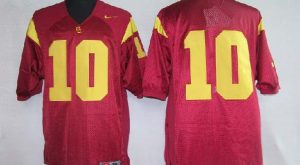 After being called out, the NCAA and its president, Mark Emmert, announced that college sports' governing body will no longer sell individual jerseys and other team-related apparel and memorabilia on its website. Emmert stated that doing so was a mistake.
Jay Bilas, ESPN college basketball analyst, criticized the NCAA for, what he called, its hypocritical practices. Bilas exposed the NCAA's methods on Twitter earlier this week causing somewhat of an uproar. A former Duke basketball player, Bilas searched high-profile college football players like Heisman Trophy winner Johnny Manziel on the NCAA's website. The result of the search produced matching Manziel jerseys for sale.
Several college football players including Terrelle Pryor when he was at Ohio State and Georgia's A.J. Green have served suspensions for doing exactly the same thing that the NCAA was doing on their site.
Manziel is even under investigation for signing several items, which will no doubt be sold at some point. It has been reported that Manziel accepted at least $10,000 to sign the items this past January when he attended the BCS National Championship in Miami.
NCAA executive vice president of championships and alliances Mark Lewis made the announcement and confirmed that the NCAA website will no longer be selling team and player merchandise.
"Moving forward, the NCAA online shop will no longer offer college and university merchandise," Lewis said. The website will be shut down temporarily while the NCAA redesigns it. They will only offer NCAA championship merchandise.
The NCAA has come under fire recently for capitalizing on the talents of its student-athletes. The organization is the target of a major class-action lawsuit regarding the use of names and likenesses of current and former NCAA athletes. Former UCLA basketball player Ed O'Bannon is suing the NCAA, Electronic Arts (EA), and Collegiate Licensing stating that each has used likenesses and names and that none of the three have compensated those for their use.