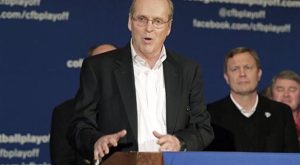 This season's Rose Bowl will mark the final Bowl Championship Series national championship game and lead college football into a new era – one of the College Football Playoff. Yes, College Football Playoff will be the name of the new four-team playoff, which will begin at the conclusion of the 2014 regular season.
Six bowl games will rotate from year-to-year as sites for the national semifinals. The Rose, Sugar, and Orange Bowls join with the Fiesta, Cotton, and Chick-fil-A Bowls as semifinals hosts. The Holiday Bowl was the only other bowl that bid to become part of the rotation.
The rotation will work as follows: in year one at the end of the 2014 regular season, the Rose and Sugar Bowls will host the semifinals to be played on January 1, 2015. In year two, the Orange and Cotton bowls will host and the Fiesta and Chick-fil-A bowls get year three. All semifinals games will be played on December 31st or January 1st unless scheduling determines the games to be played on January 2nd. In the fourth year, the rotation begins again with the Rose and Sugar Bowls and continues in such fashion until 2026.
The College Football Playoff national championship game dates have been released as well. All championship games will be played on a Monday, beginning with the 2015 game to be played on January 12th.
Cowboys Stadium in Arlington, Texas, will host the first College Football Playoff national championship game. Arlington was one of only two cities to bid for the title game. The other was Tampa, Florida. Arlington had been the favorite to host the initial championship game and will do so just nine months after hosting the 2014 NCAA Men's Final Four.
With the name, site, and scheduling out of the way, the BCS commissioners now face the more difficult part of the equation – removing the BS out of the BCS. The FBS conference commissioners must find a way to get the four best teams in the nation into a playoff that will produce a national champion. Simply, they must produce a product that college football fans want. In order to do so, it is likely that a selection committee, similar to that in college basketball, will be formed to make decisions on which teams will make the new College Football Playoff. Determining who will serve on that committee, whether it's athletic directors, coaches, etc., is the next step in the long process that will hopefully change college football for the better.