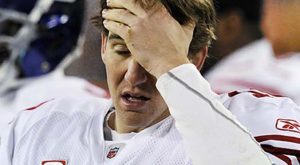 After a 27-21 defeat at the hands of the Chicago Bears on Thursday night, the New York Giants are now 0-6 and clearly one of the worst teams in the NFL in 2013. But, are they really that bad?
Considering that head coach Tom Coughlin led virtually the same team to a Super Bowl just two seasons ago, it is hard to believe that the organization has slumped so low. For the first time all season, the Giants' defense did not allow over 30 points, holding Bears QB Jay Cutler and company to 27. It wasn't good enough.
Defense is, of course, one of the Giants biggest problems. They are giving up just under 35 points per game. In the NFL where the better offenses average around 28 per game, giving up five TDs a game just won't cut it. New York is near the bottom of the league in stopping the run, giving up 123 yards a game. They are dead last in total yards allowed. When you don't play good defense, you usually don't win many games.
Offensively, the Giants are not much better. As a unit, they have rushed for 68 yards per game and averaged 17 points. It all starts with quarterback Eli Manning. The younger brother of Peyton, who is having a career year in Denver, has won a Super Bowl MVP, but is playing like an inexperienced rookie. Manning is completing just 53.7 percent of his passes and has thrown 15 interceptions in the Giants' six games. He has also been sacked 16 times.
Manning's interceptions haven't been too helpful either as, once again, he had one returned for a touchdown against the Bears. He threw three picks on Thursday including one that the Bears' Tim Jennings returned 48 yards for a touchdown. The big one, though, came as the Giants were driving what could have been the winning score late in the fourth quarter.
As the Giants drove into Bears' territory in the final two minutes, Manning tried to hit tight end Brandon Myers near the 10-yard line. Jennings once again made Manning pay, intercepting him at the 10-yard line and ending the comeback attempt and the game.
While the Giants' woes are more than just the quarterback or the defense, one thing is clear. They need to improve, and fast. The Giants will face Minnesota next Monday night before another meeting with the Eagles, who the Giants lost to 36-21 in week five.