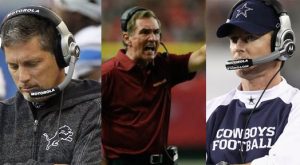 As is customary, nearing the end of the NFL season means that talks of coaching changes will begin, if they have not begun already. With one coach out already – Gary Kubiak in Houston – there are a few more NFL coaches that might be looking at their last few weeks of employment as a head coach. Here's a look at who is on the hot seat.
Rex Ryan, New York Jets
The Jets are not mathematically eliminated from the playoff picture yet, but they have not done anything since making the AFC title game in Ryan's first two years as head coach. They have lost four of their last five and will finish with a losing record for the third consecutive year. It might be time for someone who can develop rookie QB Geno Smith.
Jim Schwartz, Detroit Lions
Schwartz inherited one of the league's worst programs when he took the job five years ago. He slowly made improvements winning two games in 2009, going 6-10 in 2010, and then 10-6 and a playoff berth in 2011. But, they faded last year, losing eight straight to finish 4-12 and now, after starting the season 6-3, the 7-7 Lions are fighting for their playoff lives. The Ford family is usually very patient (remember Matt Millen?) but if the Lions don't get into the playoffs this year, it might be time for Schwartz to exit.
Jason Garrett, Dallas Cowboys
It seems like the Cowboys head coach is always on the hot seat, but after last week's loss where Dallas squandered a 26-3 lead and lost to Green Bay, Garrett may be on the way out. If the Cowboys don't make the playoffs this year, it would make four consecutive years that America's team is home for the postseason.
Mike Shanahan, Washington Redskins
There are seven million reasons why Shanahan will return as the Redskins coach next season. Owner Dan Snyder would have to pay his head coach $7 million to buy out his contract. While it's a lot, it may be worth it. The former Super Bowl head coach has gone 24-39 in four years and the Redskins have been eliminated from this year's postseason. He has taken the 'Skins to the playoffs just once in his tenure.