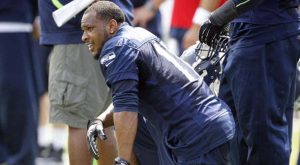 Seattle wide receiver Percy Harvin, acquired in March in a trade with Minnesota, will undergo hip surgery this week to repair a torn labrum. Harvin is expected to miss three to four months of the season.
The hip started to bother Harvin just before training camp started. The Seahawks placed the former University of Florida star on the physically unable to perform list last week. Harvin traveled to New York earlier this week to get another opinion on the injury from Dr. Bryan Kelly.
If Harvin starts the season on the PUP list, he will miss the first six weeks. He would have to be practicing by the end of the 11th week in order to avoid missing the entire season. Recovery time from surgery for a torn labrum is estimated at 12 to 16 weeks.
Losing Percy Harvin is a blow to the Seahawks, who were looking forward to another weapon at receiver and also in the return game. However, the Seahawks still have Golden Tate and Sidney Rice plus, they are a team that relies heavily on their rushing attack led by Marshawn Lynch. If that isn't enough, don't forget one of last year's break-out stars in QB Russell Wilson. This is a team loaded with offensive talent, Harvin or no Harvin.
Percy Harvin is one of the game's more dynamic players. In 2011 he played in all 16 games, starting 14, and wound up with 87 catches for 967 yards and six touchdowns. He also carried the ball 52 times for an average of 6.6 yards per carry. Last season, he only played in nine games due to injury, but still had 62 receptions for 677 yards. He also returned a kickoff 105 yards for a touchdown.
The Seahawks open the season facing Carolina in week one and then face division rival San Francisco in week two. Seattle gets the 49ers at home for week two's Sunday night prime-time game.