NFL Playoff Races Heat Up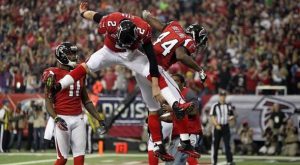 NFL Playoff races heat up With two more weeks remaining in the 2012-13 NFL season, a dozen teams have been officially eliminated. However, another dozen or so remain in the NFL playoff hunt and for each team's crazed fans it's going to be a wild ride as we hit the home stretch. Below we assess the current teams vying for a final playoff spot.
AFC
Indianapolis Colts (9-5)
Remaining games: @ Kansas City, Houston
Barring a total meltdown, it's safe to say that Andrew Luck and the Colts are playoff bound. The Kansas City game is practically a gimme and a loss to Houston would leave the team at 10-6, which should be more than enough to secure a spot.
Cincinnati Bengals (8-6)
Remaining games: @ Pittsburgh, Baltimore
With a win over Pittsburgh, the Bengals will almost surely secure a spot. However, that's not a certainty considering the Steelers do sometimes show up to play, particularly when their backs are against the wall. The Bengals better hope they close the show next Sunday or there will be a lot of pressure on them during the final week of the season when they take on Baltimore and Pittsburgh faces lowly Cleveland.
Pittsburgh Steelers (7-7)
Remaining games: Cincinnati, Cleveland
The Steelers hit a rough patch late in the season and now they find themselves in a do-or-die position. In order to have any shot at the playoffs, they must win their next two games and hope to catch a break during the last week of the season. Stranger things have happened before.
N.Y. Jets (6-7)
Remaining games: @ Tennessee, San Diego, @ Buffalo
Mathematically, the Jets are still in it although they have looked far from a playoff contender this year. Mark Sanchez and company can turn some heads if they reel off three wins to close out the season. Realistically speaking, they will likely lose one of those games and watch the playoffs from home.
Miami Dolphins (6-8) NFL Playoff races heat up
Remaining games: Buffalo, @ New England
If they Dolphins win two games in a row, they'll end the season at 8-8. In many respects, that would be an accomplishment for such an up-and-down team. With two tough games remaining, it's safe to say the Dolphins and their fans won't be enjoying the playoffs come January.
NFC
Washington Redskins (8-6)
Remaining games: @ Philadelphia, Dallas
RG3 has been extraordinary this season, but the question remains. Will he be healthy for the final two games of the season? The answer to that question may not matter if backup QB Kirk Cousins can continue to do what he did in Week 15 against Cleveland.
Seattle Seahawks (9-5)
Remaining games: San Francisco, St. Louis
Seattle has cranked things up a notch winning 5 out of their last 6 games. Now they must face division rivals San Francisco and St. Louis to end the season. It's going to be tough, but if any team is capable of great things it's Seattle led by Rookie QB stud Russell Wilson.
Minnesota Vikings (8-6)
Remaining games: @ Houston, Greenbay
With two extremely difficult games at the tail end of their season, it's going to take a miracle for the Vikings to see the playoffs. On the bright side, Adrian Peterson only needs 294 yards to break Eric Dickerson's all-time single-season rushing record.
Chicago Bears (8-6)
Remaining games: @ Arizona, @ Detroit
Many NFL analysts had high hopes for the Bears, but now they find themselves on the verge of watching the playoffs from home as they hit the road for two games. This team needs to get it together in a hurry.
Dallas Cowboys (8-6)
Remaining games: New Orleans, @ Washington
The Cowboys have surprisingly had a good season. Now they must prove to themselves they're more than just mediocre. Here's another chance for Tony Romo to prove he can lead a contender into the postseason. Will he come through this time?
N.Y. Giants (8-6)
Remaining games: @ Baltimore, Philadelphia
The defending champions looked horrible getting shut out 34-0 against Atlanta. Now they must travel to Baltimore in hopes of keeping their playoff hopes alive. Like several other teams, they will need all the pieces to magically fall together in order to defend their title in January.
St. Louis Rams (6-7-1)
Remaining games: @ Tampa Bay, @ Seattle
The Rams may mathematically be in the hunt, but the truth is they're playing more for respect at this point. A strong finish will set a good foundation to build on for next season.
New Orleans Saints (6-8) NFL Playoff races heat up
Remaining games: @ Dallas, Carolina
After a horrible start, the Saints find themselves several games under .500. Drew Brees will find himself in unfamiliar territory come January as he watches the playoffs from the comfort of his couch.
Most Recommended