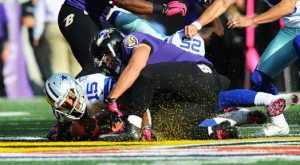 The NFL  preseason continued play with a full slate of games this weekend as teams prepare for the first roster cuts on August 26. Many league veterans, like Dallas QB Tony Romo, saw their first action of the year in week two of the preseason. Here's a recap of the weekend's games.
Chicago 20, Jacksonville 19
Week two began with a Thursday night game featuring the Bears and Jaguars. Trailing 19-7 entering the fourth quarter, Chicago rallied for two touchdowns, the second with just 50 seconds remaining in the game, to grab the victory. QB Jordan Palmer, who is trying to win the backup job from Jimmy Clausen, led both scoring drives in the fourth quarter and finished 7-of-9 for 73 yards.
New England 42, Philadelphia 35
Patriots QB Tom Brady made his preseason debut in a wild 42-35 win over Philadelphia. Brady went 8-of-10 for 81 yards and a touchdown, a 15-yarder to Kenbrell Tompkins in the first quarter. He also threw an errant pass that was picked off by Philadelphia's Cary Williams and returned 77 yards for the Eagles first touchdown. Six QBs played in the game and each threw for at least one touchdown. Former Jet Mark Sanchez went 11-for-12 for 117 yards and two TDs in his effort to make the Eagles roster as a backup.
Baltimore 37, Dallas 30
Tony Romo tossed a TD pass in his first preseason action, but the Cowboys fell to Baltimore. Romo, returning from offseason back surgery, looked sharp completing 4-of-5 passes for 80 yards, including a 31-yard TD pass to WR Dez Bryant. Ravens RB Ray Rice played just one series, carrying the ball twice for 21 yards. Rice left the game with a bruised shoulder.
Green Bay 21, St. Louis 7
Sam Bradford and Aaron Rodgers both played for the first time this preseason on Saturday night. Rodgers went 11-for-13 for 128 yards and threw a 3-yard TD pass to Randall Cobb to open the scoring. Bradford, returning from a torn ACL a year ago, played well into the second quarter and completed 9-of-12 passes for 101 yards. He threw an 11-yard TD to Lance Kendricks in the second quarter for the Rams only score of the night.
Week two preseason action continues with two games Sunday – Denver at San Francisco and Kansas City at Carolina – and concludes with a Monday night game between Cleveland, featuring QB Johnny Manziel, and Washington. Teams must cut their rosters to 75 players by 4:00 p.m. on August 26.