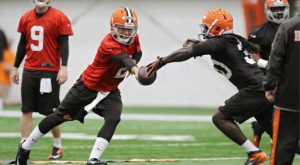 With rookies already reported in Cleveland, San Francisco, and Tampa Bay and several more expected to report by July 20, NFL training camps will be in full swing by the end of next week.
The Miami Dolphins, with new wide receiver Mike Wallace to go with young QB Ryan Tannehill, will get a jump on the league when both rookies and veterans report on July 20. All teams will have all players in camp by next Saturday, July 27. Both Buffalo and Indianapolis will have veterans reporting to camp that day.
As camps open around the country, teams will be looking to develop and evaluate talent, especially that which was picked up in the 2013 NFL Draft and free agency. Teams will also work on new schemes, conditioning, team building, and do everything possible to maintain their team's health. Injuries can have a huge effect on an upcoming season.
The 2013 season will be an interesting one to say the least. It will mark the return of Sean Payton, New Orleans Saints head coach, who returns after a one-year suspension for his alleged role in the Saints' bounty scandal. New Orleans slipped a little last year, and it will be interesting to see the impact Payton will have.
Some of the league's most exciting players a year ago were rookies. Not only were they rookies; they were rookie quarterbacks. Can Andrew Luck, Robert Griffin III, and Russell Wilson overcome the dreaded sophomore slump? Griffin might have the toughest time as he has to come back from a knee injury suffered in their first-round playoff loss to Seattle.
Legendary defensive mind Monte Kiffin, 73, returns to the NFL as the defensive coordinator in Dallas and new coach Chip Kelly revs up his high-flying offense in Philadelphia. Kelly has left the QB job wide open with veteran Mike Vick and second-year player Nick Foles battling for the starting nod.
There will be a QB battle in New York as well. Mark Sanchez and rookie Geno Smith will duke it out for the right to lead the Jets, while over in New England, the Patriots will get used to life without Aaron Hernandez.
All of these stories and more will continue to develop as NFL teams head to training camps this week.