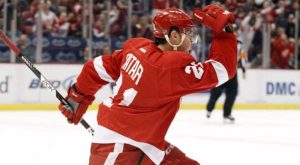 The National Hockey League announced that its proposed realignment will take place with the beginning of the 2014-15 season. The league's board of governors and the NHL Player's Association both approved the conference and division lineups.
The big moves involve the Detroit Red Wings, the Columbus Blue Jackets, and the Winnipeg Jets. Winnipeg has been pushing for years to move into the Western Conference, a better fit for the club geographically. The same holds true for the Red Wings who for years have played in the Western Conference while being located closer to its Eastern Conference foes.
With the Red Wings and the Blue Jackets moving to the East, all 16 teams in the conference are now located in the Eastern time zone. The 14 remaining teams, now geographically closer, will make up the Western Conference.
The realignment will also see the league move from six divisions to four. The divisions, like the new conference lineups, will be organized by geography. Overall, the moves mean Detroit will not play Original Six opponent Chicago as much as in year's past. The new framework will allow for every team in the league to play each team at least twice in each season. The new realignment will make for a much more balanced schedule.
It also helps a team like Dallas who currently plays in the Pacific Division with opponents who are two time zones away. The Stars' organization had been pushing to find a new home and got their wish finding a new home in a division with Chicago, Colorado, Minnesota, Nashville, St. Louis, and Winnipeg.
The four division alignment will have the aforementioned Division, Division B, and Division A - Anaheim, Edmonton, Los Angeles, Phoenix, San Jose, and Vancouver - making up the Western Conference. The Eastern Conference will have Boston, Buffalo, Detroit, Florida, Montreal, Ottawa, Tampa Bay, and Toronto in Division C and Carolina, Columbus, New Jersey, New York Islanders, New York Rangers, Philadelphia, Pittsburgh, and Washington making up Division D.
The playoffs will feature division winners as well as wild-card entries. The league will review the new realignment after the 2014-15 season to determine how it has fared and determine whether or not to keep it for the 2015-16 season.