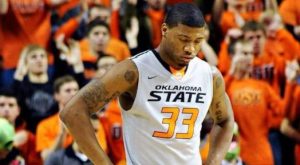 Trailing 63-61, Oklahoma State had possession of the ball and was looking to tie the game in the waning seconds of the second half. What happened next was nothing like anyone had planned.
The Cowboys turned the ball over and Texas Tech's Jaye Crockett would score on a dunk with 6.2 seconds to play. Oklahoma State star Marcus Smart trailed the play and was attempting to block Crockett's shot but fell and ended up in a mix of fans underneath the basket. Smart exchanged words with one of the fans and then shoved him.
Smart was called for a technical foul but was not ejected from the game. Cowboys head coach Travis Ford kept Smart on the bench for the game's final seconds. Ford would not comment on the incident saying that he did not see it and would like to review it before saying anything.
The fan was Jeff Orr, a faithful Red Raiders fan who logs some serious mileage to come and see his team play each year. While the details of what went on are still hazy, a person who works for the Oklahoma State radio broadcasting crew reported that he heard Smart speaking to the Cowboys' coaching staff. Smart told his coaches that Orr used a racial slur and that is what caused him to react.
Big 12 conference officials will meet today to discuss the incident and to come up with any punishment, should it be deemed necessary. Smart was not ejected by officials since they do not have the ability to do so when a player is involved in an incident with a fan.
Smart was surely frustrated, as the rest of his team is too, since the Cowboys have dropped four straight games after being ranked in the top ten. Oklahoma State was 15-2 before an 80-78 loss to Kansas on Jan. 18. They are 1-5 since that loss. Three of the losses, though, have been to ranked teams. Their schedule doesn't get any easier. They face #15 Texas and #21 Oklahoma next week.
Smart could have left school after last season and declared for the NBA Draft where he most likely would have been a lottery pick. The 6-foot-4 sophomore averages 17.5 points, 5.7 rebounds, and 4.3 assists per game. He had 22 points in the loss to Texas Tech on Saturday.