Oklahoma Stuns Alabama in BCS Allstate Sugar Bowl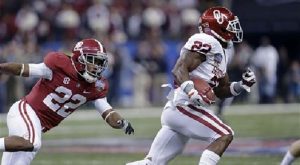 Two-time defending champion Alabama wasn't even supposed to be in New Orleans. They were to be playing for their third consecutive national title, but an Iron Bowl loss to Auburn nixed that. Four touchdown passes from Oklahoma QB Trevor Knight proved that the Crimson Tide really do have a chink in their armor as the Sooners defeated No. 3 Alabama, 45-31, in the BCS Allstate Sugar Bowl.
Alabama and head coach Nick Saban entered the game as big favorites facing an Oklahoma squad that faced plenty of adversity during the season. Sooners head coach Bob Stoops had to shuffle his offensive line almost weekly throughout the season to manage a 7-2 mark in the Big 12, 10-2 overall.
But, the Sooners battled right from the start. After Alabama's opening drive was capped off by a T.J. Yeldon 1-yard TD run, Oklahoma answered with Knight's first TD pass of the evening, a 45-yarder to Lacoltan Bester to even the score.
The Tide would grab its last lead of the game at the start of the second quarter when QB A.J. McCarron hit DeAndrew White with a 67-yard TD pass. Their advantage would not last long as Oklahoma tied the game at 17-17 on a 47-yard field goal by kicker Michael Hunnicutt.
The vaunted Alabama defense had its troubles all night long giving up 31 first-half points, the most ever under a Saban-coached Tide defense. Oklahoma actually scored on five consecutive possessions, something that has not been allowed by Alabama since October of 2003. That was the same year Saban won his first national title…at LSU!
Knight finished the game 32-of-44 for 348 yards and the four touchdowns. Oklahoma racked up 429 total yards and the 45 points were 34 more than the Tide defense was giving up per game this season.
McCarron tied a career high with two interceptions, both costly as the Sooners turned them into points. The senior QB also threw for over 300 yards, 387 on 19-of-30 passes, marking the first time both QBs have gone over the 300-yard mark in the Sugar Bowl.
Derrick Henry rushed eight times for 100 yards and caught a 61-yard TD pass from McCarron to bring the Tide to within seven points with just over six minutes to play in the game. Alabama got the ball back late in the fourth quarter but McCarron fumbled as he was hit while dropping back to pass and Oklahoma defensive lineman Geneo Grissom returned the fumble eight yards for the game's final touchdown.
Most Recommended