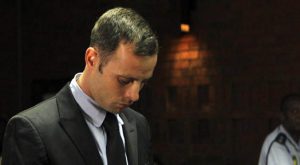 The man known as the "Blade Runner" in South Africa is on trial for the murder of his girlfriend. The trial for Oscar Pistorius began Monday morning. He is accused of killing Reeva Steenkamp.
A little over a year ago on Feb. 14, Pistorius awoke to what he thought was an intruder in his home. Fearing for both his girlfriend, Steenkamp, and himself, he grabbed his nine-millimeter pistol and proceeded to the bathroom.
On the way to bathroom, Pistorius claims he called out to Steenkamp telling her to call the police. He arrived at the bathroom door and fired four shots through the door. Steenkamp, who was 29 years old, was behind the door and was killed.
The trial got underway Monday morning in South Africa with the first witness, Michelle Burger, telling the court that she, as well as her husband, was awoken by screams on Feb. 14. Burger lives next to Pistorius in a gated community.
Pistorius claims that he heard an intruder in the home, but Burger's testimony does not support that claim. She testified that she heard numerous screams coming from the home – female screams. Burger testified that Steenkamp was screaming and pleading for help. That was prior to the shots being fired.
Pistorius' attorney then took his turn with a cross examination of Burger that focused on the question of whether or not Pistorius was lying. Burger did not directly answer the question and repeated what she had heard in the early morning on Feb. 14.
The former Olympic runner pleaded not guilty to the murder as well as not guilty to four other charges. He also faces three other counts related to possession of firearms and one regarding possessing ammunition. Should Pistorius be found guilty, he faces life in prison, the mandatory punishment for murder.
The trial has captured the attention of the South African public. It is being broadcast on a cable television network, which is committed to 24-hour coverage of the event.