South Africa's "Blade Runner" Oscar Pistorius Charged With Murder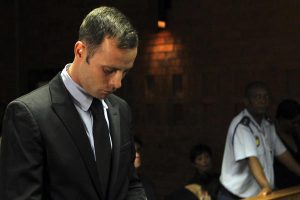 Oscar Pistorius, who captured the world's attention at last year's London Olympics, will be charged with the murder of his girlfriend, Reeva Steenkamp, in South African court on Friday.
Pistorius, 26, who wears carbon fiber prosthetics below the knee which earned him the name "Blade Runner," competed in the 400 meters at the London Olympic Games last summer. His story is an example to all about victory over adversity.
The South African hero will now face a very different sort of adversity as he faces charges that he murdered Steenkamp, a very successful model. Steenkamp, 29, was not only a model, but also a law school graduate and a female entrepreneur committed to empowering women. She was named to FHM magazine's 100 Sexiest Women two years in a row.
Police reports indicate that there had been previous incidents at Pistorius' home in Pretoria. Neighbors had reported some happenings of a "domestic nature" in the past. It is believed that Pistorius shot Steenkamp with a 9mm pistol. Pistorius is cooperating with police and arrived at the local station Thursday.
Pistorius, who has a sponsorship deal with Nike reportedly worth $2 million a year, was born without a fibula in each leg and had both legs amputated below the knee before he was a year old. He has worn prosthetics all his life. Equipped with the carbon fiber "blades," Pistorius had competed in the Paralympics for years and in 2007 began competing against able-bodied athletes.
He did not qualify for the 2008 South African Olympic team but ran 45.07 in July of 2011 to qualify for the London Games. He became the first double amputee to compete in the Olympic Games where he was eliminated in the 400 meter semifinals. He also became the first double amputee to win a medal as part of the silver medal South African 4 X 400 meter relay team.
After the London Games, Pistorius competed in the 2012 Paralympics where he won a gold medal and established a new world record in the 400 meters.
Most Recommended