Philadelphia 76ers Lose 22nd In A Row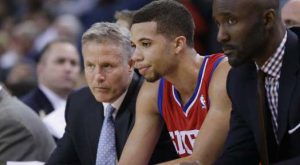 As college basketball's March Madness prepares to start, there is another madness in the city of Brotherly Love. The Philadelphia 76ers lost for the 22nd consecutive time on Wednesday night, 102-94, to the Chicago Bulls.
The Sixers shot just 9-of-19 from the free throw line, Bulls guard D.J. Augustin scored 20 points, and Taj Gibson added 19 points and had 13 rebounds as Philadelphia inches closer to the NBA record for consecutive losses. Three teams have been exactly where the 76ers are right not with 23 straight losses. Back in the 1995-96 season, the Vancouver Grizzlies lost 23 in a row. Denver did it in 1997-8 and Charlotte did it just two seasons ago in 2011-12.
Philadelphia won four games in a row, a streak that ended on Jan. 4. Since then, the Sixers are 3-32, including the current losing streak. They even started the season 3-0, but now are just 15-53. Surprisingly, they do not have the league's worst record. That belongs to Milwaukee, which is 13-55 overall.
Thaddeus Young shot 10-of-19 from the floor, 4-of-7 from three-point range, and scored 24 points to lead Philadelphia. Tony Wroten added 17 points and Michael Carter-Williams scored 17 points and had nine rebounds. Philadelphia never let the Bulls blow them out and even outscored them in the third quarter, but just couldn't hit key free throws when needed. Philly shot 11-of-24 from three-point range, which kept them in the game, but the 47 percent shooting from the line did them in.
The Sixers face the Knicks, who have won seven in a row, on Friday, and then travel to Chicago to play the Bulls again on Saturday. Things don't get any easier as Philadelphia plays at San Antonio next Monday. The Spurs have the league's best record and have won 11 straight. Philadelphia is at Houston (45-22) on Mar. 27 and goes back home on Mar. 29 to take on Detroit.
The NBA record for most consecutive losses in a season belongs to the 2010-11 Cleveland Cavaliers who lost 26 in a row. Looking at the 76ers next three opponents, it appears that Philadelphia might join the Cavs in the record books.
Most Recommended