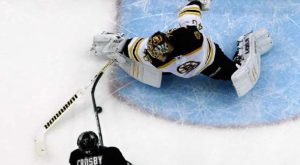 It was bound to happen, especially without superstar Sidney Crosby. The Buffalo Sabres got two goals from Kevin Porter and sloppy play from the Pittsburg Penguins as they ended the NHL's second-longest winning streak in history with a 4-1 victory Tuesday.
The Penguins started Tomas Vokoun in goal but the Sabres were able to take advantage of the goaltender who had helped Pittsburgh to three straight shutouts. Porter scored his first goal at 10:24 of the first period capitalizing on an errant Penguins' pass and scoring an unassisted shorthanded goal.
Pittsburgh's lone spark was provided by Jarome Iginla who tied the game on a power-play goal just three minutes later. The Sabres' Steve Ott would score with just 1:50 to go in the first period and Buffalo would two more in the second when Penguins' coach Dan Bylsma decided to pull Vokoun in favor of regular goaltender Marc-Andre Fleury.
The Penguins had no answer for Buffalo and looked out of sync without their captain, Crosby. The NHL's point leader was struck in the face with a puck last weekend and just had surgery on his jaw earlier this week. He's likely to miss three to four weeks, possibly more.
The NHL record for consecutive wins, 17, was set by the Penguins during the Mario Lemieux-era in 1992-93. Pittsburgh was chasing the record but, without their leader, looked very average against the Sabres.
Sabres' goalie Ryan Miller stopped 19 shots and broke the organization's record for games played by a goalie with 492. It is possible that the win over the Penguins could be Miller's last in a Buffalo uniform. With the Sabres clearly out of playoff contention, Miller could be traded before the April 3rd trade deadline.
The Penguins will get back to work Wednesday when they begin a home-and-home series with the New York Rangers. The Sabres will host Ottawa on Friday.