Pittsburgh Penguins Quietly Putting Together Streak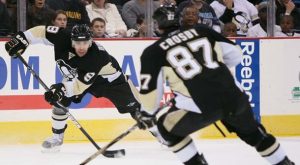 While the sports' world is focused on the NBA's Miami Heat and their 27-game winning streak and NHL fans still have the Blackhawks' 24-game streak on their minds, the Pittsburgh Penguins Quietly Putting Together Streak have quietly put together a 12-game run of their own.
The Penguins defeated in-state rival Philadelphia, 2-1 in overtime, on Sunday for the team's 12th straight win. Sidney Crosby tied the game with a power-play goal in the third period and Tyler Kennedy won it with his fifth goal of the season.
Unlike the Blackhawks, the Penguins have done it with offense averaging a league-best 3.5 goals per game. During the first four games of the streak, the Penguins' defense allowed 17 goals, six of those in an overtime win in Montreal in the game when the streak began.
Pittsburgh, 25-8 on the season, sits atop the Atlantic Division and leads the Eastern Conference with 50 points, one shy of NHL-best Chicago. Crosby leads the NHL with 53 points (14 goals, 39 assists) while left-winger Chris Kunitz leads the league in plus-minus ratio currently at +24.
The Penguins' will face Montreal, the team it beat to start the streak on March 2nd, Tuesday night at the Consol Energy Center in Pittsburgh. After giving up 11 more goals after the Montreal win, the Penguins have become a little more stingy. "We've been keeping the goals against down, coming back and being in tight games," said Brandon Sutter, who scored the game-winner on March 2nd in overtime.
The streak has continued despite the absence of center Evgeni Malkin and defenseman Kris Letang who are both on injured reserve, Malkin with a shoulder injury and Malkin with a leg. Both players practiced on Monday are considered day to day. There is no indication from Penguins' coach Dan Bylsma when either player will be activated. Both Malkin and Letang can be activated at any time, but a roster spot must be opened.
Most Recommended