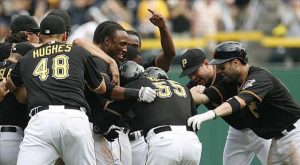 After 21 years of mediocrity and drudgery, the Pittsburgh Pirates have finally ended their drought and have clinched a berth in the 2013 Major League Baseball playoffs.
The Pirates defeated the Cubs, 2-1, on Monday night and waited around Wrigley Field to see that the Washington Nationals did indeed lose to the St. Louis Cardinals. The Nationals' loss put the Bucs into the postseason for the first time since 1992.
The last time that Pittsburgh was relevant in baseball was during the early 1990s when the Pirates won three consecutive National League East division titles between 1990 and 1992. The manager at the time was current Detroit Tigers' skipper Jim Leyland and the Pirates' star at the time was a young Barry Bonds.
After Bonds left for the San Francisco Giants, the Pirates reeled off 20 straight losing seasons, the most in the history of all four major sports leagues in the United States.
The Pirates, who haven't been getting much run production as of late, started quickly against Chicago on Monday when Neil Walker homered to left field in the first inning. The Pirates led 1-0 all the way through to the eighth inning when Brian Bogusevic led the inning off with a single and later scored on a single by pinch hitter Donnie Murphy.
In fitting fashion, the Pirates' Starling Marte hit the game-winning home run in the top of the ninth inning in Chicago's Wrigley Field to give Pittsburgh a 2-1 lead entering the bottom of the inning.
With Nate Schierholtz on first base, the Cubs' Ryan Sweeney hit a bloop single into right-center field. Pirates right-field Marlon Byrd could not field the ball. The Bucs Andrew McCutcheon then made a play on the ball, fielded it and threw to first baseman Justin Morneau, who was in front of the pitchers' mound. Morneau caught the throw and related the ball to catcher Russell Martin, who tagged Schierholtz for the final out of the game.
The Pirates will be at least a wild-card participant in this year's playoffs. The Cincinnati Reds also are in the playoffs for sure by virtue of their 3-2 win over the New York Mets. Both the Pirates and the Reds trail St. Louis by two game in the NL Central.