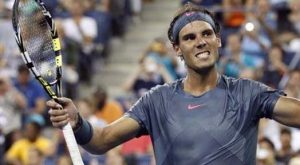 Second-seeded Rafael Nadal overcame a lackluster second set and defeated No. 1 seed Novak Djokovic 6-2, 3-6, 6-4, 6-1 on Monday to win the U.S. Open men's tennis title, his 13th Grand Slam championship.
Nadal, like women's champion Serena Williams will collect $3.6 million in prize money as well as a $1 million bonus for his performance this season during the North American hard-court tour. For the year, he was 22-0 on hard courts and 60-3 overall in 2013 with 10 titles. Nadal won the French Open this year as well, which made him the first male to win a Grand Slam title in nine straight seasons. The Spaniard's total of 13 major championships trails just Pete Sampras with 14 and Roger Federer, who has 17.
"Thirteen Grand Slams for a guy who is 27 years old is incredible," said Djokovic. It is truly remarkable. Nadal has already won a record eight French Open titles. He also has won Wimbledon and the U.S. Open twice and the Australian Open once.
Rafael Nadal improved to 8-3 against Djokovic in Grand Slam matches. He was on fire Monday and continued to shine even after Djokovich came back and won the second set. But, the Serbian was his own worst enemy, especially when Nadal won 12 of the last 14 points in the initial set.
The tactics of Nadal were nothing out of the ordinary. He just reached every ball that Djokovic delivered. By the end of the match, Djokovic, forced to cover a lot of ground by strategic shots by Nadal, had committed 53 unforced errors, compared to the 20 made by Nadal.
Even though he lost, Djokovic will hold onto his current No. 1 world ranking. Djokovic gave Nadal a run for his money. There were several points that lasted 15, 25, even more than 50 strokes.