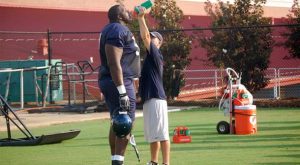 Saying Terrell Brown is big is an understatement. The former Mississippi offensive and defensive lineman checks in at 6-foot-10-inches and weighs 403 pounds. The St. Louis Rams figure Brown is so big that he's worth taking a chance at trying to develop into an NFL offensive lineman.
Brown played on both sides of the ball while at Ole Miss but was used sparingly. He may be best known for crushing a folding chair while sitting on the sidelines during a nationally televised game on ESPN. Last season, he played two games at offensive tackle and in 2011, he played eight games as a defensive tackle.
There were no Ole Miss players invited to the NFL Scouting Combine this year but in comparing Brown to those who attended, you will see just how big this guy is. His arms measure 38 inches long - which put him as the longest reach out of all offensive lineman by two inches. Brown's wingspan? An amazing 92 inches. That's seven and a half feet from hand-to-hand.
At the Rebels' Pro Day, Brown's 40-yard dash time was 5.80 seconds and he recorded 22 reps with 225 pound weight in the bench press. Not jaw-dropping numbers, but definitely adequate when compared to other offensive lineman entering this year's draft.
Rams' head coach Jeff Fisher decided to bring Terrell Brown in for a tryout. They worked him out on both sides of the ball and figured he would be best suited at right tackle. The offensive line coach for the Rams says that he would love to have Brown. He'll be a long shot to make the final 53-man roster, though.
Mike Markuson the former Ole Miss offensive coordinator had said that Brown is almost too big to play the game. Markuson said that since Brown is so big, he has trouble bending down and getting low. Brown also does not have very good flexible and struggles moving out of his stance. As a result, the behemoth lineman recorded most of his career at Ole Miss on the bench.
If the Rams can work on Brown's flexibility and develop him as a player, it's possible he has a chance. If he were to make the Rams final roster, Terrell Brown would become the largest player in the NFL.