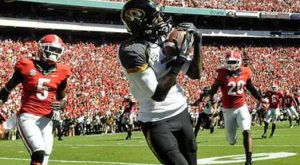 After a frenzied college football Saturday that saw seven ranked teams lose, the latest AP College Football poll includes a record eight teams from the game's strongest league, the SEC (Southeastern Conference).
Top-ranked Alabama, of course, remained the country's top team with a dominant 48-7 win over Kentucky. Oregon remained No. 2 with its 45-24 win over No. 16 Washington, the Ducks tenth win in a row over the Huskies.
Clemson struggled with Boston College, but won 24-14 and remains No. 3 while Ohio State and Florida State moved into the top five by virtue of Stanford's upset loss to Utah. The Cardinal fell to No. 13 after falling 27-20 to the Utes.
LSU defeated Florida to move to No. 6 and Johnny Manziel and Texas A&M are ranked No. 7. The Aggies won a thriller over Ole Miss, 41-38, on Saturday night. South Carolina sits at No. 11 and Missouri, a 41-26 winner over Georgia, moved up to No. 14. With the loss, Georgia fell right behind the Mizzou at No. 15. After the Gators' loss to LSU, they drop to No. 22 and Gus Malzahn's Auburn Tigers moved into the ranking for the first time this year at No. 24.
The top four teams in each division of the SEC are all ranked and Ole Miss, Mississippi State, and Tennessee are all teams whose programs are improving. With that huge statement win over Georgia, Missouri sits atop the SEC East at 2-0, 6-0 overall. They face another tough test when they play Florida at home next Saturday.
The previous record for the number of teams ranked in the Top 25 was seven, done by the SEC this season and in past seasons. The Big Ten and the ACC also had seven teams ranked at one time this year.
The ACC has two teams in the top five and Miami, at No. 10 gives them three in the top 10. Surprisingly, Baylor is the highest ranked Big 12 team coming in at No. 12. Wisconsin defeated Northwestern on Saturday to move into the rankings at No. 25 giving the Big Ten two ranked teams.
Things get interesting next week as the first BCS poll will be released next Sunday night.