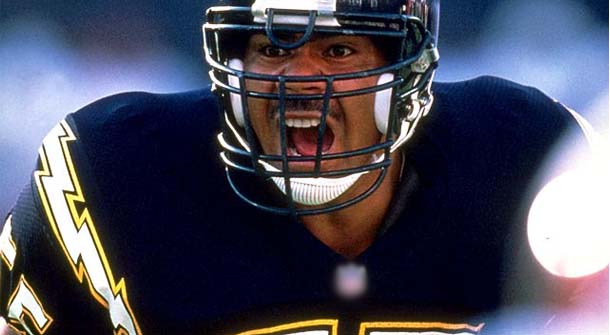 When I heard the news that Junior Seau had shot himself over a month ago I was pretty shocked. Here was a man who appeared to be a consummate professional who took his life. It got me thinking about athletes and how they handle their days post sport. It can be a tough road for them. Most of the time they are forced to retire before they want to because of either injury or age steadily deteriorates their skills.
Junior Seau obviously loved football and, man, was he good at it. He had a 20-year career most notably with the San Diego Chargers. He was born in San Diego and played college ball at Southern Cal. He was selected in the 1st round in 1990 and 5th overall. On top of being a 12-time Pro Bowler he was a 6-time First-Team All-Pro. He finished his career with 56.5 sacks and over 1500 tackles. He will be remembered as a fierce competitor and one of the best linebackers in the game.
Unfortunately, we hear of stories of former professional athletes taking their lives or abusing alcohol and drugs. It is an extremely difficult transition to make from a professional sport to quote/unquote normal life. It becomes more difficult to duplicate the highs and adrenaline rush while maintaining the structure of team and mini goals they work towards. Your coach is constantly motivating you and getting you to perform your best. There really aren't too many jobs or fields these athletes can go in that mimic this kind of day-to-day and overall purpose. All too often college coaches don't help these players with valuing the importance of getting a solid degree that they can use after their professional careers.
Hopefully the NFL and the NFLPA and other professional sports organizations will continue to help their current players to prepare for life after their sport. Life is a gift and having a strong support staff is vital for health and happiness. We all enjoy watching our favorite players play on Sunday and we put them on pedestals and nearly worship them. Receiving the news about Junior Seau is humbling and it puts in perspective that we are all humans dealing with life the best way we are able. Let's make it a point to be healthy, treat our family like friends and our friends like family. Kiss our wives and kids every morning and night and be sure to honor our fathers and mothers. Enjoy the walk and play life!