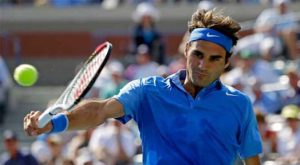 Following a four-and-a-half hour rain delay, former five-time US Open champion Roger Federer was defeated in straight sets 7-6 (3), 6-3, 6-4, by Spaniard Tommy Robredo in the fourth round of the 2013 US Open.
Federer, who won five straight US Open championships from 2004 to 2008, did not play well and was beaten by Robredo, someone who Federer has never lost to. In their previous 10 meetings, Federer won 24 of 27 sets and all 10 matches.
The rain delay seemed to sap the life out of Federer for some reason. The match, which started in Arthur Ashe Stadium, was moved to the Louis Armstrong venue. Federer had won seven straight matches in Ashe Stadium going back to his US Open debut in 2000. It was the first time Federer lost in straight sets at the US Open since 2002 when he lost to Max Mirnyi.
The loss will deny fans of a 32nd meeting between two of the sport's greats, Federer and Rafael Nadal, who had to come from behind to defeat 22nd-seeded Philipp Kohlschreiber 6-7 (4-7), 6-4, 6-3, 6-1. Nadal, the second seed in the tournament, will now face Robredo in the quarterfinals.
This loss, coupled with his loss in the second round at Wimbledon this year, may be a sign that the 32-year-old Federer is on the downward slope of an incredible career. Since winning the 2012 Wimbledon championship, Roger Federer has not made a Grand Slam final. He lost in the quarterfinals of last year's US Open to Tomas Berdych. He made it to the semifinals of this year's Australian Open where he was defeated by Andy Murray, and he was eliminated in the quarterfinals of the 2013 French Open by Jo-Wilfried Tsonga.
The Swiss star was the toast of the tennis world between 2003 and 2010. He won 16 of 27 Grand Slam singles titles. Three times – 2004, 2006, and 2007 – he won three of the four majors. Since winning the 2010 Australian Open, though, Federer, has won just one Grand Slam event, the 2012 Wimbledon title mentioned previously