Roy Hibbert Fined For Offensive Comments After Game 6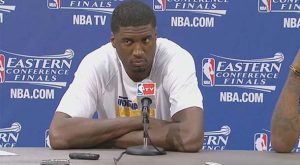 The NBA has levied a $75,000 fine against Indiana center Roy Hibbert for his post-game comments on Saturday following the Pacers' 91-77 victory over the Miami Heat in Game 6 of the Eastern Conference finals.
The Indiana big man, fresh off a night where he scored 24 points, had 11 rebounds, and played relentless defense, answered a question about Miami Heat star LeBron James and ended his response with "no homo."
Hibbert issued an apology early on Sunday morning admitting he regretted his choice of words. He also reached out to Jason Collins via Twitter on Sunday. Collins became the first active male professional athlete to come out publicly as gay in April. His story, chronicled in Sports Illustrated, made national news.
The question Hibbert was asked had to do with a charging foul called on James in the second half on Saturday's game. The 7-foot-2-inch Hibbert had stepped into the lane to draw the charge on James. Hibbert felt he had not provided enough help to teammate Paul George, tasked with defending James in the series, during Game 3.
NBA commissioner David Stern said the fine was necessary to reinforce the NBA's stance on offensive, vulgar language. "Such offensive comments will not be tolerated by the NBA," Stern said. Hopefully, Hibbert's comments are not a distraction for the Pacers as they head into the final deciding game.
Roy Hibbert is averaging 22.8 points and 10.8 rebounds in the series with the Heat and was a major factor in the Game 6 win. Game 7 takes place Monday night in Miami. The Pacers have made it to the NBA finals only once, back in 2000, when they lost the Los Angeles Lakers in six games. The Heat will be trying to get back to the finals to defend their 2012 NBA title.
Most Recommended