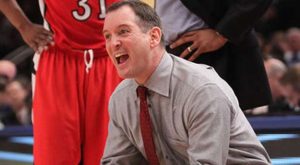 Mike Rice, head men's basketball coach at Rutgers University, was fired Wednesday after videotape revealed Rice's abuse of players including shoving and grabbing players as well as throwing basketballs at them and using racial and gay slurs.
ESPN's Outside the Lines aired video footage of Rice berating and physically threatening the players on their show Tuesday prompting New Jersey governor, Chris Christie, to call for Rice's firing. The university, facing public pressure, went ahead and made the decision to relieve Rice of his duties.
The video has caused an uproar in the sports world. The clips show Rice throwing basketballs at players that hit them in the legs, feet, back and shoulders. Rice was also seen pushing players and grabbing them by the jersey in a threatening way. Another video shows Rice kicking a player and he can be heard shouting obscenities and other racial and gay slurs at teammates.
Rice led Robert Morris to two NCAA tournament appearances and became one of the hot coaching candidates as a result. After an interview with his alma mater, Fordham, didn't turn into a job, Rutgers decided to take a chance on a coach who had recruiting ties to New Jersey.
In three years with the Scarlet Knights, Rice managed to post a 44-51 record, just 16-38 in the very competitive Big East conference. Rutgers went 15-16 this season (5-13 in the league). Rice still has two years remaining on his five-year deal with the university. Attorneys will continue working to determine the outcome of Rice's compensation from Rutgers.
Eric Murdock, an ex-NBA player and former director of player development at Rutgers, spoke with administrators at the university about Rice's coaching style and practices as early as last June. Murdock also said that Rice's behavior had led to at least three players to transfer to other schools, including Gilvydas Biruta, a highly touted forward, who wound up transferring to Rhode Island prior to last season.