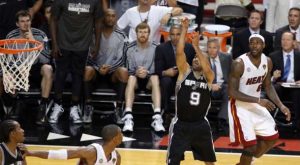 Tim Duncan overcame a rough start and the San Antonio Spurs withstood a triple-double by Miami star LeBron James to win Game 1 of the NBA Finals, 92-88, in Miami. Duncan went 0-for-5 and had two fouls in the first quarter, but went on to finish with a very Duncan-like 20 points and 14 rebounds.
With nine days off, the big question going into Game 1 was if the layoff would affect the Western Conference champions. Coach Gregg Popovich's squad answered that as guard Tony Parker hit an off-balance 16-foot jumper that banked in as the 24-second shot clock expired and just five seconds remained in the game. Parker's bucket gave the Spurs a four-point lead and virtually sealed the win.
On the other end, the Heat were hoping to ride the momentum of their Game 7 destruction of Indiana in the Eastern Conference finals. That didn't happen, but James did manage 18 points, 18 rebounds, and 10 assists. The Spurs' Kawhi Leonard defended King James well all night holding him to 7-of-16 shooting and effectively eliminating James in the fourth quarter.
The Heat's Dwayne Wade disappeared in the second half. Wade wound up with a respectable 17 points but did not score in the fourth quarter. The other part of the Big Three, Chris Bosh added 13 points, but he also struggled in the fourth quarter managing just two points.
Parker finished with a game-high 21 points. San Antonio committed just four turnovers. The Spurs forced eight Heat turnovers, four in the deciding fourth quarter. Game 1 winners in NBA Finals history have gone on to win the series 71 percent of the time. Since the 2010-11 season, the first for the Big Three (Bosh, James, and Wade) in Miami, the Heat have lost a Game 1 four times. In each of the three previous instances, Miami went on to sweep the next four games.