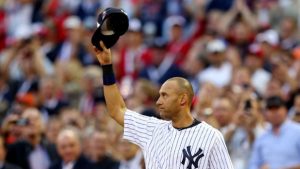 New York Yankees veteran shortstop Derek Jeter will be placed on the disabled list, effectively ending his 2013 season in which he played in just 17 games. Jeter, now 39 years old, never recovered from a broken ankle suffered a year ago in the 2012 playoffs.
Yankees general manager Brian Cashman made the announcement on Wednesday that the Yankees' captain would miss the rest of the season and the postseason should the team wind up obtaining playoff spot. Currently, New York is two games back in the hunt for the second American League wild-card spot.
In recovering from the broken ankle, Jeter missed the first 91 games of the season and, in his first game back on July 11, strained a quadriceps muscle and immediately went back on the disabled list.
Jeter returned to the Yankees lineup on July 28, but his second stint of the season lasted just four days as he wound up right back on the DL with a strained calf. He came back again on August 26 to play in 12 games and then last Saturday, Jeter had to be taken out of a game because of pain he experienced in his surgically repaired ankle.
"It seemed like every time he came back, he was fine and then he would play a couple of days and something would happen," said manager Joe Girardi.
To shore up the roster, the Yankees went out and acquired shortstop Brendan Ryan from the Seattle Mariners. With that move, the organization sent the signal loud and clear that Jeter would not be returning for the season's final 17 games.
One of the big questions on many fans' minds now is whether or not baseball has seen the last of Derek Jeter. Even though he hit .316 a year ago, Jeter is clearly in the twilight of his baseball career. In his worst season ever, Jeter hit just .190 this season with one home run and seven RBIs. The homer was one of only two extra-base hits that Jeter had during the season.
Jeter claims he will return. He will use the off-season to fully rehabilitate himself and prepare for next year's spring training. Cashman fully expects Jeter back at shortstop next season. In Jeter's contract there is an $8 million player option for next season or Jeter can decide to become a free agent.