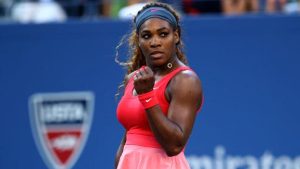 Last year, Serena Williams was eliminated from the French Open in the first round, it was the only time in her career that she has ever lost a first round match in a Grand Slam and to make it worse her opponent wasn't even ranked in the top 100. Yesterday, Williams powered her way to a 6-4, 6-4 victory over Maria Sharapova to win her first French Open since 2002, ending an 11-year drought.
She noted that she is still a little upset about her first round loss last year but she also stated that it's how you recover that matters most to her.
Williams was on top of her game defensively and nailed several aces, including match point, on her way to her win over the defending champion, Sharapova. "She is playing extremely well," said Sharapova.
In fact, Williams, ranked No. 1 in the world currently, recorded her 31st straight win Saturday, this gives her the longest win streak in a single season for her entire carreer. So far this season, Williams is 43-2 and has racked up six titles. The victory on Saturday was her 16th career Grand Slam title.
Saturday's final was the first major final between women ranked 1-2 in more than nine years. Sharapova, at No. 2 won 13 straight French Open matches before meeting Williams. Sharapova is the only only active women's player, other than Serena and her sister Venus, with more than two Grand Slam titles. Even so, the 6-foot-2-inch Russian has lost to Williams in their last thirteen meetings.
Williams, at 31 years of age, becomes the oldest woman since Martina Navratilova to win a Grand Slam event. Navratilova was 33 when she won Wimbledon in 1990. Williams is currently sixth all-time in career Grand Slam titles. With two more, she would equal Navratilova and Chris Evert with 18. The only women with more major wins are Helen Wills Moody (19), Steffi Graf (22), and Margaret Smith Court (24).
Next for Williams will be Wimbledon, which begins in a little over two weeks.