Shaun White Finishes Out Of Medal Contention; Erin Hamlin Wins First U.S. Women's Luge Medal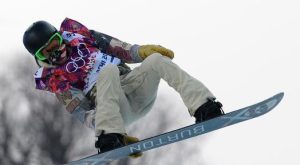 Shaun White's attempt to win a third consecutive gold medal in the men's halfpipe fell short as the two-time defending Olympic champion wound up fourth in competition on Tuesday. While White's day didn't go as expected, Erin Hamlin made Olympic history. She became the first American woman to win a medal in the women's singles luge event.
White's first run in the finals ended with him attempting the Yolo trick, invented by eventual gold medalist Iouri Podladtchikov, and then winding up on the ground. He was able to continue the run, but his score of 30.5 was well behind the 86.5 that the man they call "I-Pod" put up on his first run.
Podladtchikov put up an even more impressive 94.75 on his second run and he was in command of the lead when White came up for his second and final run. While much better than the first, White was off, failing to land the Yolo and a double cork cleanly. He scored 90.25 and finished fourth behind a pair of Japanese snowboarders.
Fifteen-year-old Ayumu Hirano and 18-year-old Taku Hiraoka took the silver and bronze medals, respectively. For the first time in the history of Olympic halfpipe, an American failed to medal.
Things went much better for Hamlin, who won the U.S.'s first women's single luge medal, capturing third place and the bronze medal. Since the introduction of the event exactly 50 years ago, 29 of the 39 total Olympic medals in luge have been won by Germany. Two more were earned Tuesday as teammates Maria Hoefl-Riesch and Tatjana Huefner took the gold and silver.
Hamlin finished her final run in 50.348 seconds, just 0.236 seconds behind Huefner and 0.433 seconds ahead of Canada's Alex Gough. She finished with two racers to go and was guaranteed a medal at that point. Prior to Hamlin's bronze medal finish, other than Germany, only Austria, Italy, and the former Soviet Union had won medals in the women's singles luge. Hamlin and the U.S. have earned their way onto that list
Most Recommended