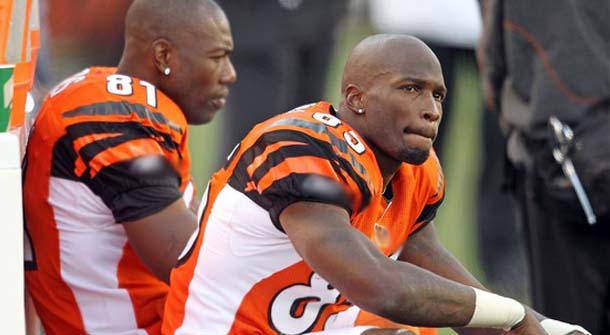 With the news that Chad Johnson (previously "Ochocinco"), former NFL receiver, plead not guilty to misdemeanor battery in a Florida court on September 13, the question lingers whether he'll be able to one day make it back to the NFL. His fall from stardom has been swift but as we've seen time and time again, the sports world always bears open arms for a good comeback story.
Unfortunately for the Dolphins and Chad Johnson the comeback story was not meant to happen in Miami. The team had simply no choice but to release him despite the fact that it knew it had weak depth at the WR position. It is standard practice for a team to release a good player due to a team violation of team policy. Athletes must uphold a level of professionalism and staying out of the law's way is the best way to do that.
For other NFL teams taking a look Johnson's way, there will many positives and negatives that must be weighed out. Sometimes the baggage that comes with the player isn't something a team wants to associate its organization with. Sometimes the talent and ability is too difficult to pass up.
In Johnson's case, his recent legal problems have him facing up to one year in jail if convicted.
In the large scope of things a team must analyze a series of factors when considering whether it is in their team's best interest to sign a veteran "diva" NFL WR.
Age – It is a proven fact that with age a player's reflexes and speed begin to decrease, sometimes at an alarming rate. In addition older players are more susceptible to injury. Terrell Owens is a good example.
Health – If a player is coming off a series of injuries, that should immediately raise a red flag. Veteran players who've demonstrated good recovery, should be given a look.
Ability and Talent –Teams want the best player available for the position and if a player proves himself in training camp, you can bet he's going to be looked at closely.
Professionalism – Professionalism means never being late to practice, respecting the team in and outside of the locker room, and putting the team before anything else. It also means not breaking a team policy or a societal policy.
Publicity – This of course can be good or bad. A player's popularity and public image can bring higher ratings, but it can also lead to bad PR when the player doesn't exude Professionalism.
Intangibles – If a player is one of the all-time greats at his position, he's almost always guaranteed a look. Some teams will always be eager to squeeze the last bit of greatness remaining in that great player. Even if that doesn't happen, the knowledge of the game which he'll be able to impart on young player can often be invaluable.
Johnson may not be as historically great as a Randy Moss or a Terrell Owens, but at his best he wasn't too shabby. He will likely get another opportunity to prove himself because he is still only 34 years old with perhaps a few more good years left.
Ultimately a team wants to win and provided a player has cleaned up his legal problems, the talent and ability are still there, health isn't an issue, signing him is a no-brainer.