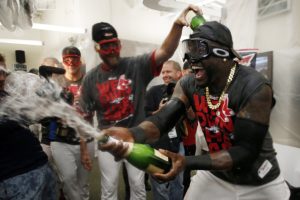 In the first game at Fenway Park since last Monday's bombings at the Boston Marathon, the Boston Red Sox delivered an emotional 4-3 victory over the Kansas City Royals, lifted by the spirit of a city and Daniel Nava's three-run home run in the eighth inning.
After a special ceremony to honor the victims of the terror attacks, the Red Sox and their star David Ortiz got down to business. Ortiz, who has not played since July 17th of last season, was as emotional as anyone in speaking to the crowd prior to the game. He did use some adult language but in the wake of the tragedy, it didn't matter. "…Nobody is going to dicate our freedom," Ortiz said.
The Red Sox donned their home white uniforms with "Boston" on the front instead of the traditional "Red Sox." The jerseys will be auctioned off for a fund to support the victims of the attack.
For Ortiz, it was his first game since injuring his right Achilles tendon last July. He tied the game in the sixth inning with an RBI single and finished the game 2-for-4. Starting pitcher Clay Buchholz (4-0) allowed eight hits over eight innings to pick up the victory. Buchholz, who struck out six on the day, had gone 22 innings before Lorenzo Cain scored on a Jeff Francoeur single.
Kansas City players and coaches wore a "B Strong" patch on the front of their jerseys. Neil Diamond was on hand to sing the Red Sox favorite "Sweet Caroline" prior to the bottom of the eighth inning. The win was the sixth straight for Boston, the fourth in a row since the bombings on Monday.
The Red Sox will continue their homestand playing at Fenway Park for an entire week. Boston will finish their series with the Royals on Sunday and then entertain Oakland for a three-game stint and Houston in a four-game series.